Yesterday Jon came and got me for lunch and we walked a couple of blocks down to a nearby restaurant. It is a very small restaurant with a very small buffett ;)
In Germany if you ask for a bottle of water, they give you a bottle of carbonated water (like Perrier) so you have to specify by saying "May I have a bottle of water with NO GAS"
Isn't that funny. But yesterday we drank the carbonated water and it really wasn't too bad.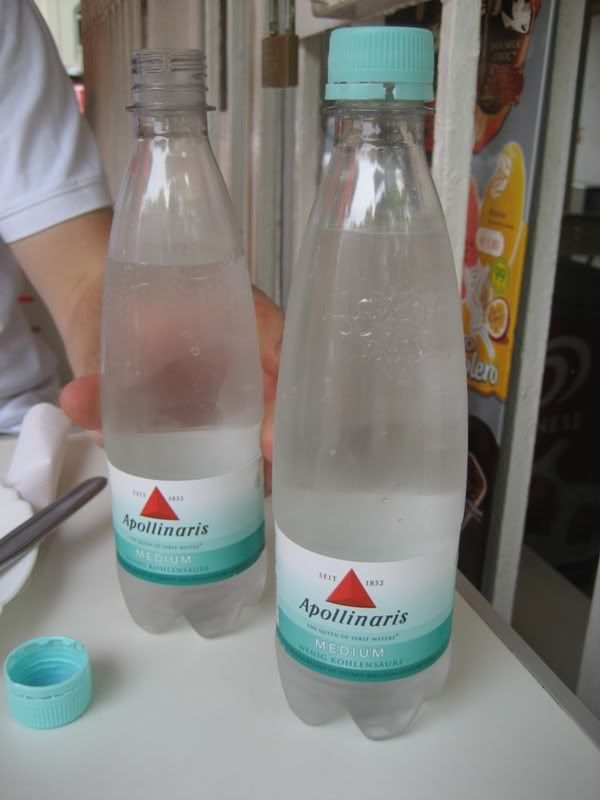 From the buffett we pointed at a couple of things we wanted since there is such a speech barrier! This is what we got. The meat balls were amazing, there was some sort of cheese inside them which made it even more tasty, but the potatoes were actually a potato salad with pineapples. This is something I've never had before and will definitely have to acquire a taste for!! But all in all it was a pretty nice lunch and since the weather is nice right now mostly all restaurants have seating outside.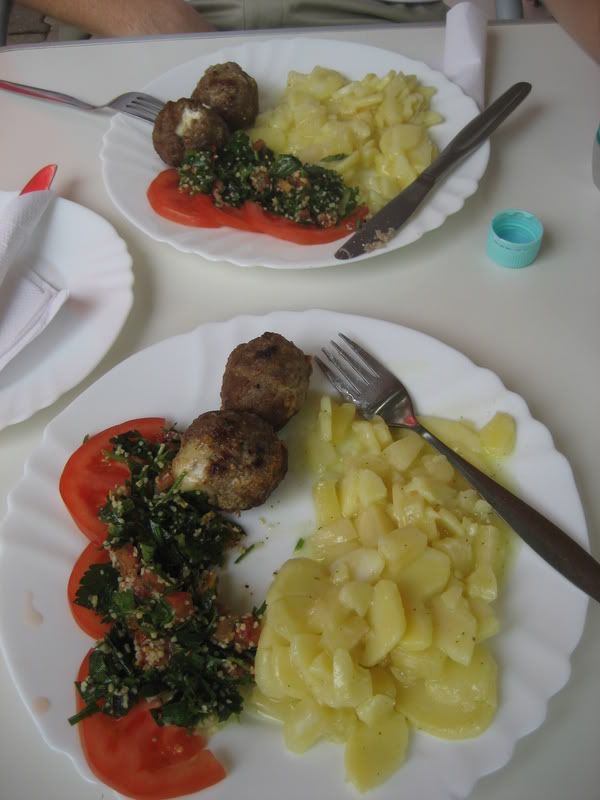 After lunch Jon went back to the office for a couple of hours, but as soon as he got off we put on our walking clothes and headed out. We walked the opposite direction than we normally walk to another part of the downtown area. As you can see I love architecture so I took several pictures of buildings I thought were pretty.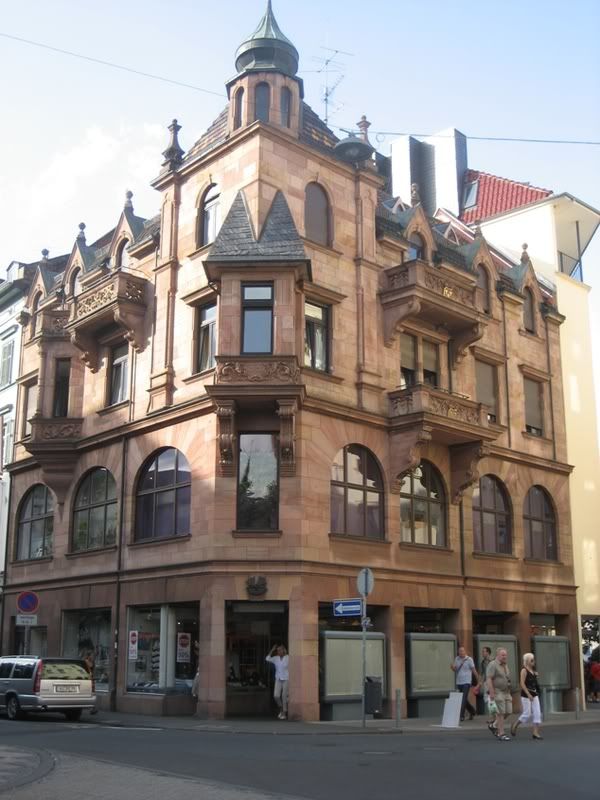 This is another picture of the church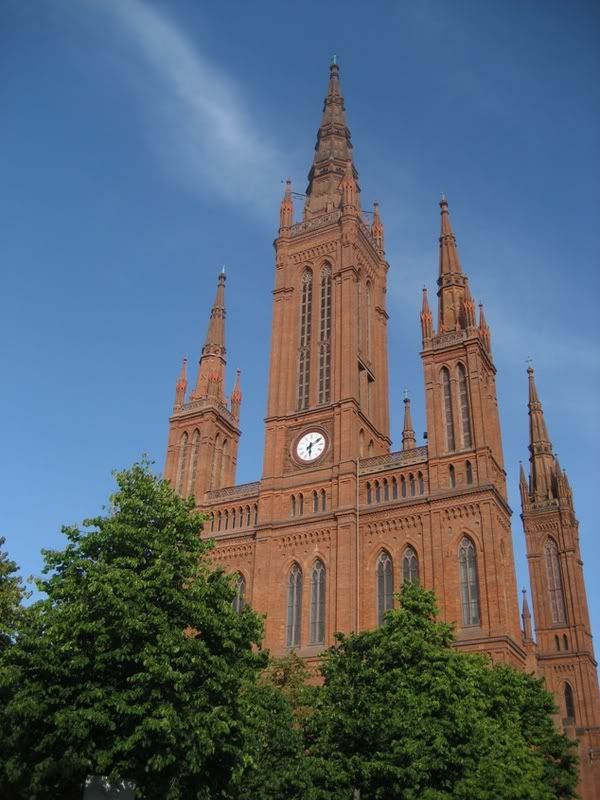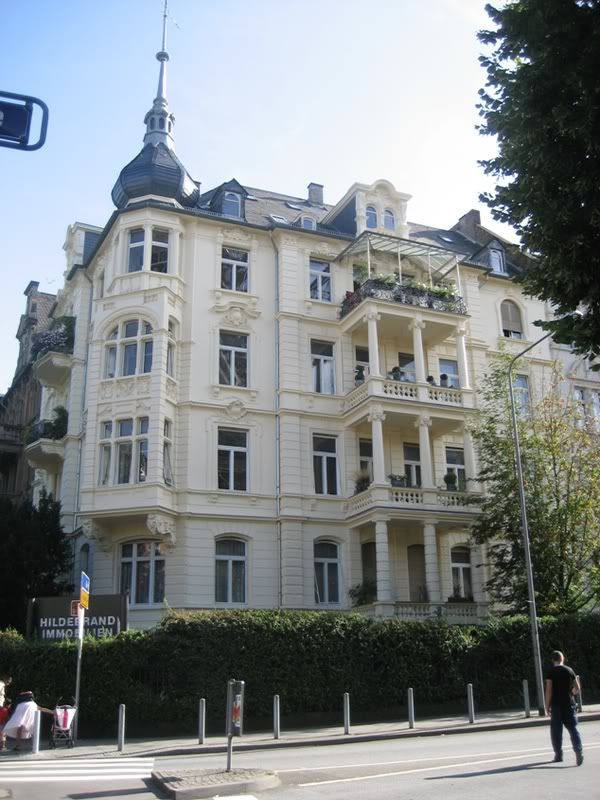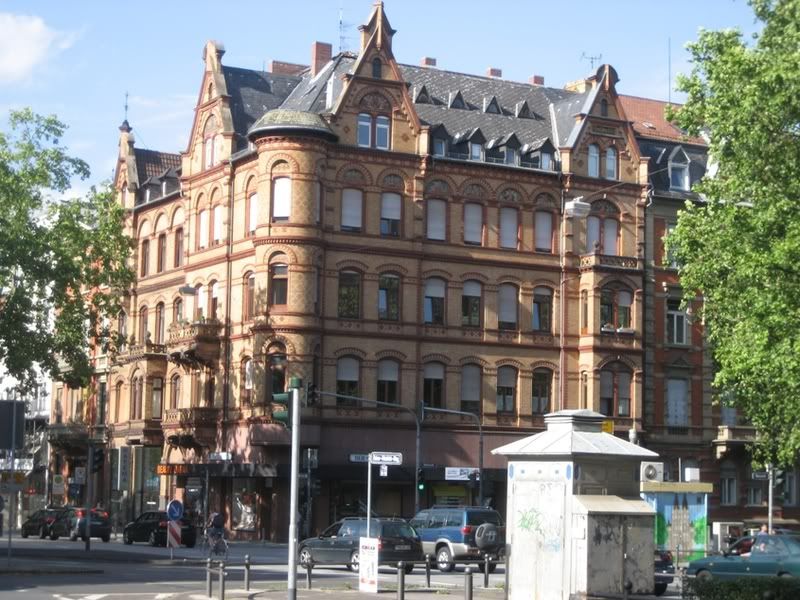 Jon and I stopped at an apartment that is for rent that we are interested in looked at. It is fully refurnished and we are actually on our way to see it at 2:45 today. It's normal here in Germany for the landlords to come pick you up and take you to see their apartments. So we thought that was wonderful for the fact that we don't have a car here yet. I'm excited to see this place. It looked unbelievable from the pictures we saw. Here are some pictures of the outside of the building. The apartment we are looking at is on the second floor. It has 5 bedrooms, a living room, kitchen, a terrace in the back and a balcony in the front. These apartments remind of brownstones and they have such an artsy feel. I'd love to live here. It's funny because Jon and I didn't want to live in the city but once you find something like this it is hard to pass up.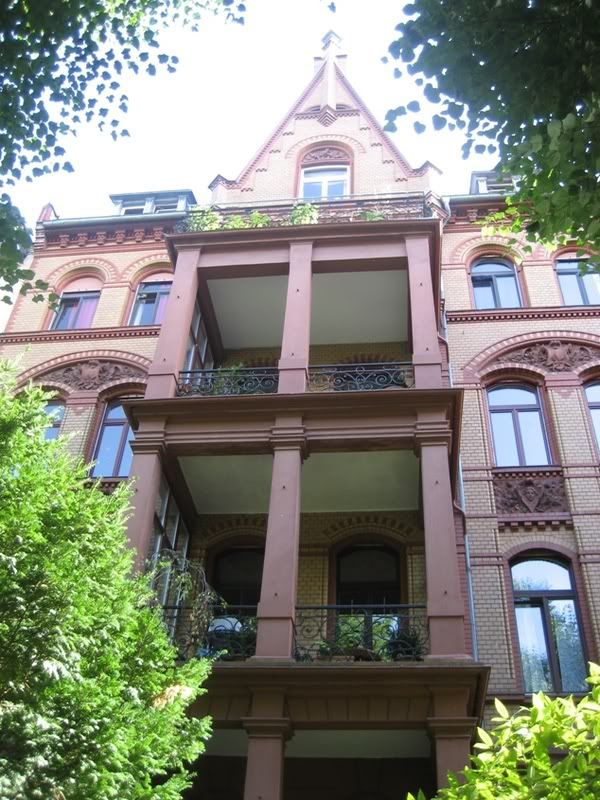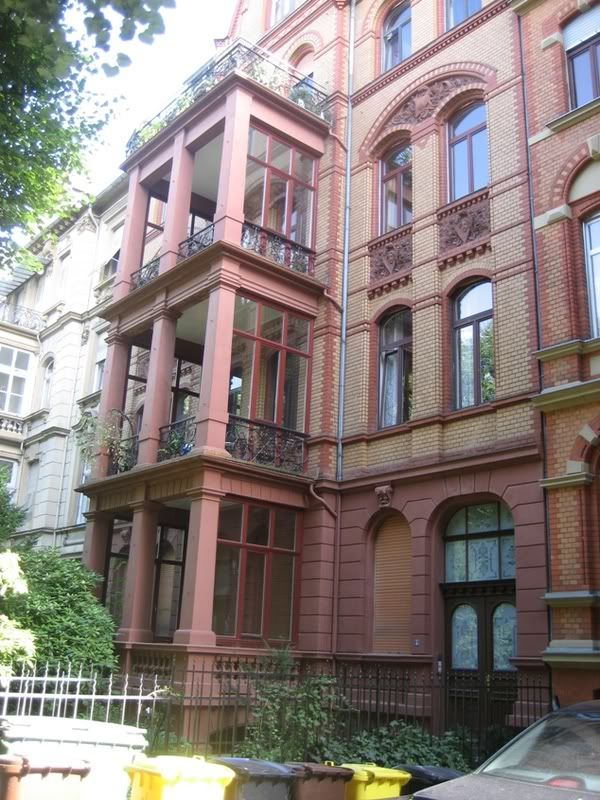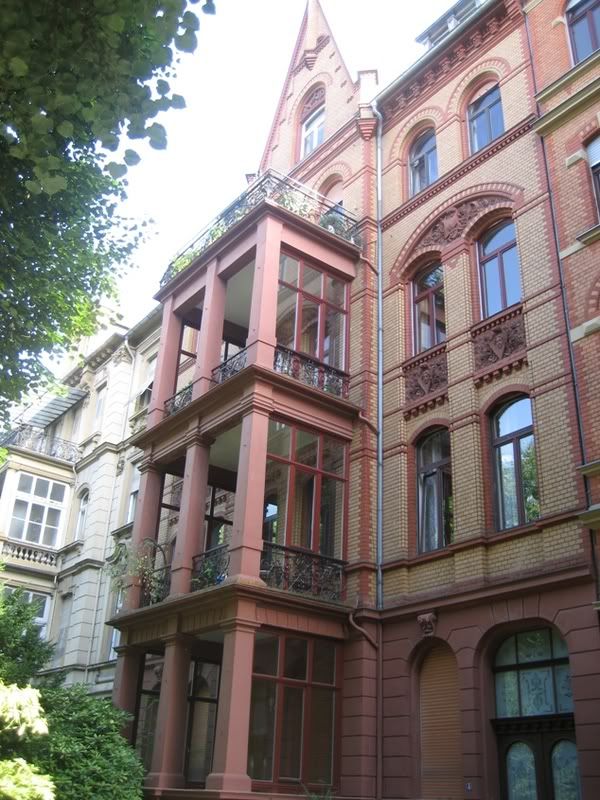 This picture is of the brownstones along the street.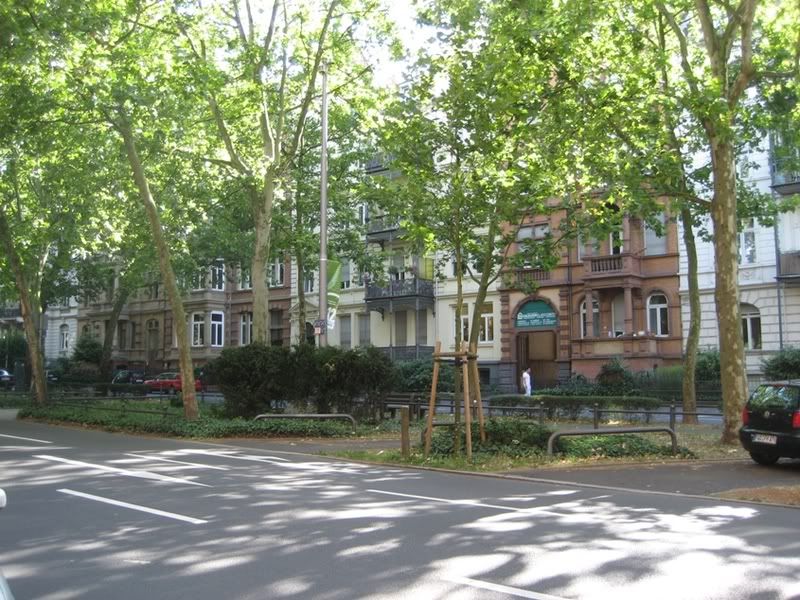 More apartments
My mothers name is Mona Lisa, I thought she'd
like to see her name on a sign in Germany!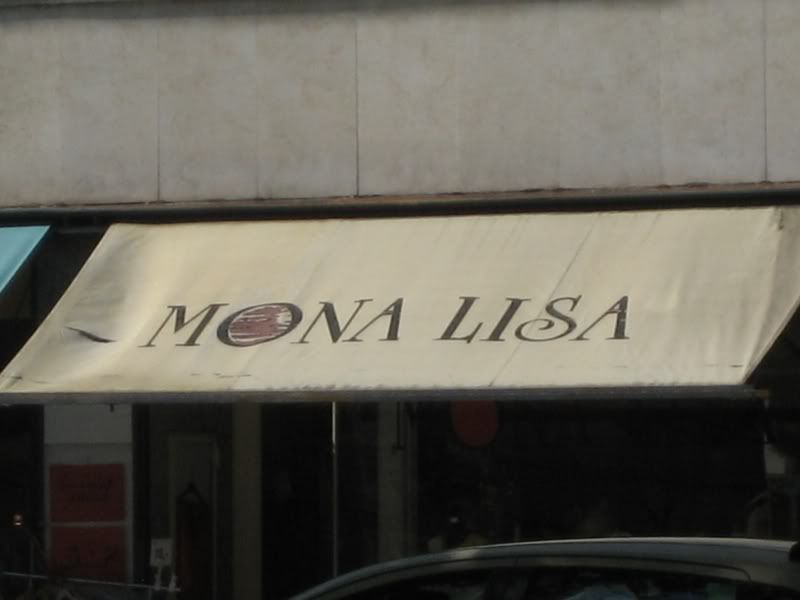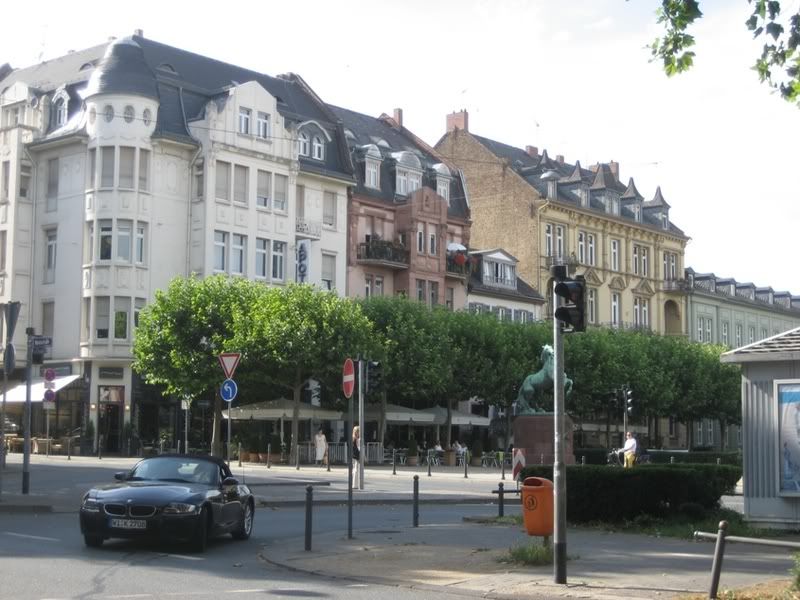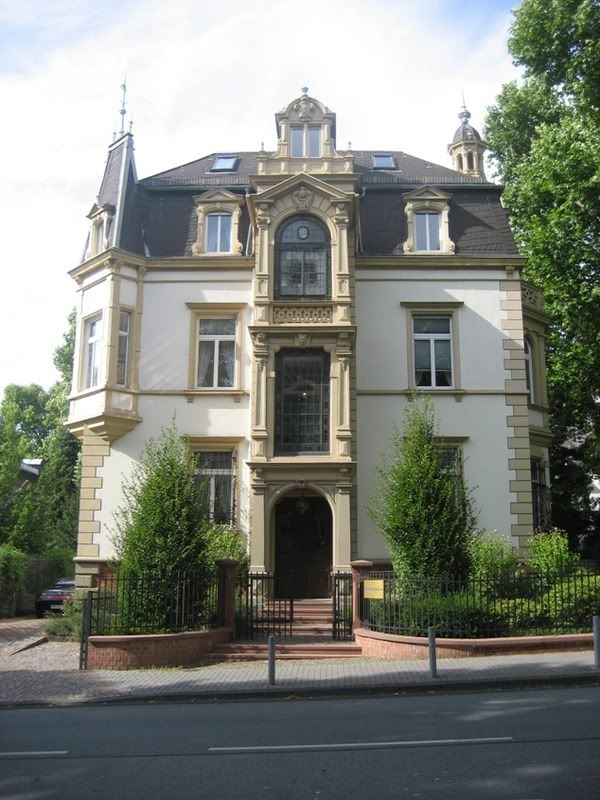 For dinner Jon and I went to Vapiano. (Vappiano)
It is a really great pasta shop. They make your food in front of you. All of their pasta is fresh and they actually make it at the restaurant. A couple of nights ago I had pasta with mushrooms and a cream sauce. It was wonderful. Last night I thought I'd try something different. On the menu I saw "beef tenderloin sliced into thin pieces," so I ordered it only to get this. I was completely wrong and it wasn't what I thought it was going to be. It literally was very very thin slices of uncooked beef tenderloin. I thought what the heck and ate it anyway, it really wasn't too bad. Luckily Jon helped me eat it because I wanted to finish it so as not to be rude.
Jon and I really enjoy a nice beer every every once in a while with dinner.
He loves Hefeweizen so we both had one. It really is tasty, with a nutmeg finish.
More pictures to come ;)