I forgot to post some of our pictures from Qatar. While Jon and I were in Doha, we shopped at a store called Zara that is really amazing! I found an awesome pair of boots that I just couldn't pass up, so we bought them. I love cowboy boots and these look kind of like cowboy boots, only they are a little shorter. I wear a lot of gray and black so I thought these would go well with these colors. They are a good neutral color so they will probably work with anything. I absolutely love wearing boots in the fall and winter time! LOVE IT! I pretty much base my wardrobe around my boots because I can't get enough of them lol. Here in Germany everyone wears boots. It was 60 degrees the other day and every woman I saw was wearing boots! It was so exciting to see this and I now know I won't have any problem fitting in over here. Other than the fact that I don't speak German..... yet!! Here are the boots!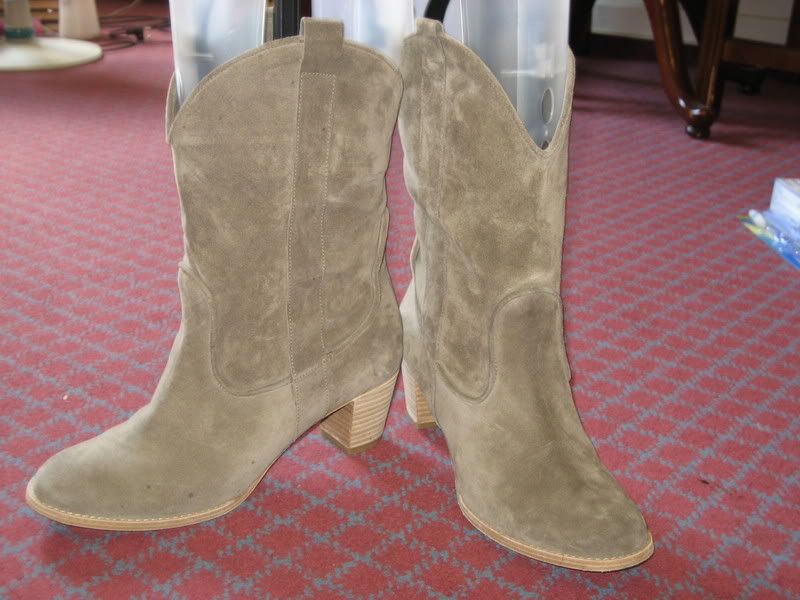 While we were at the mall in Doha I really needed to tinkle, so I ran to the bathroom whilst Jon continued shopping. Needless to say, I decided not to use the restroom when I saw what the toilets were like. I had to take a picture so I could show everyone. Jon said I was just supposed to squat over the toilet. Yikes. I think not. There was no toilet seat; it was just a hole in the floor.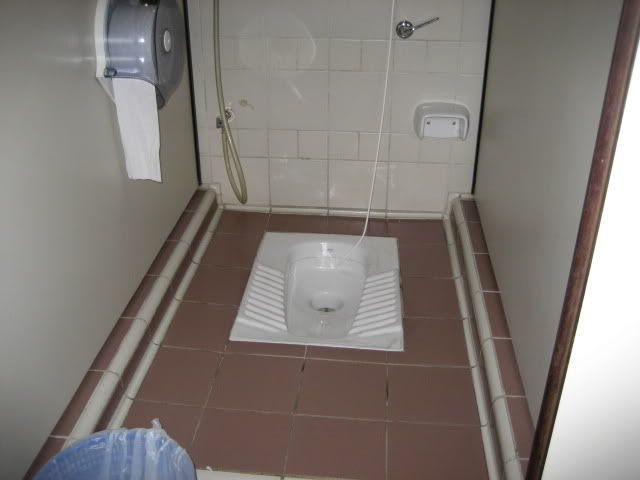 The last night we were in Qatar we went down to the beach and took a couple of pictures. Here are the last pictures of our trip. I didn't realize I had the camera on manual and the coloring was on Sepia, but the pictures actually turned out really neat.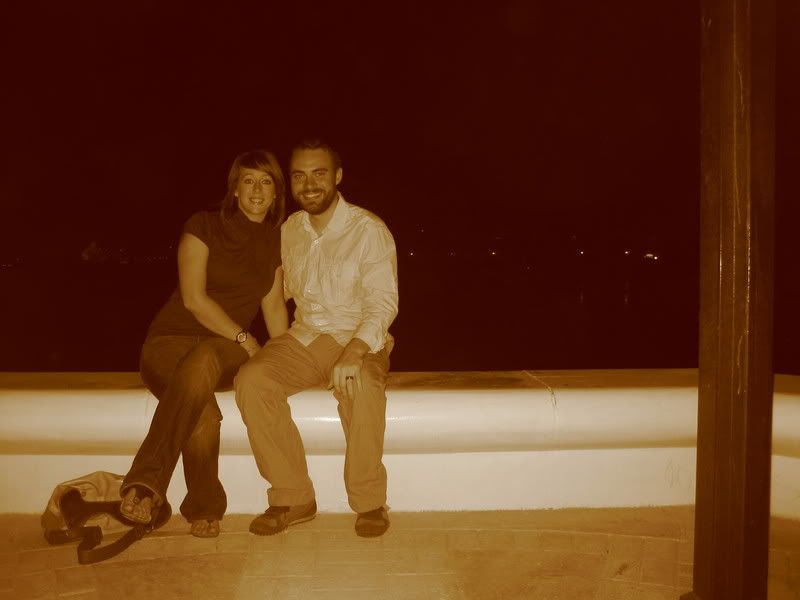 Our trip to the Middle East was really great. I look forward to traveling there again. Jon will be going back in October and who knows, I might pop along with him.
This was a wonderfully relaxing weekend!
Friday, Jon and I got up early and went to the gym for a bit of a workout! I jogged on the treadmill for thirty minutes and Jon did weights! It was a great workout, although afterward I was completely worn out, due to the fact that I am completely out of shape. Later that day we went downtown to do some window shopping and enjoyed the weather. Right now it is cooling down in Wiesbaden, but the sun is still shining so it's not too bad. We walked by a shoe store and I saw another pair of boots I liked, so I had to get them. They are the perfect shade of brown that I can pretty much wear with any neutral color! I can't wait to wear them. (Well I'm wearing them right now around the house, but I can't wait to wear them out and about!)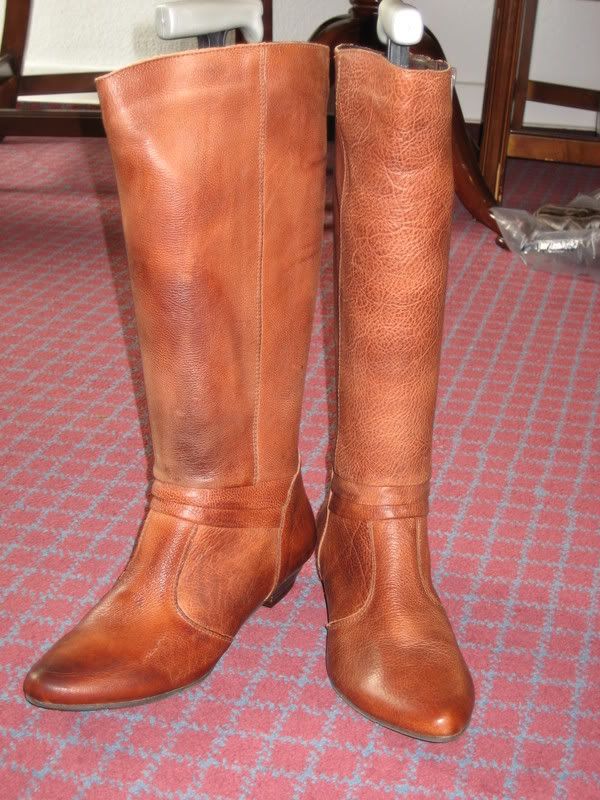 After shopping we went to an antique store and saw some things that would look great in our new apartment. I can't wait to shop for neat things to put in our place. We ate dinner at Vapiano, an Italian restaurant. I had ravioli and Jon had fusili bolognese. We also had the house red wine which is actually very nice. It started getting chilly so we headed back to the hotel and relaxed for the rest of the evening.
Saturday, one of Jon's co-workers asked us to house sit and dog sit, while they went on a day trip. We were all about house sitting, just to get out of the hotel for the day was wonderful. We woke up at 6:00 a.m., got dressed, and walked to the market. We bought fresh eggs and continued on to Caroline's house. When we got there, we grabbed Bella and took her for a walk. Bella is a Wirehair Fox Terrier. I meant to take a picture of her, she is adorable, but I forgot. I found this picture on the internet of a Fox Terrier. But Bella is a lot cuter than this ;)
After our walk in the park with Bella we decided to hustle back to the house and start making breakfast! We made scrambled eggs with turkey and provolone cheese. MMMMMM it was so yummy. Jon loves the discovery channel and history channel. One of the shows we watched back in the states was Planet Earth, a documentary. Obviously by the title it is about the planet earth. Caroline had the entire dvd set of this documentary so of course we watched it. It was actually very interesting and amazing how they shot some of these videos. Sadly enough the full documentary was 11 hours and we watched the entire thing. Jon and I needed the R&R so we took full advantage of it. We stopped every once in a while only to take Bella for short walks and grab food and drinks. For dinner we made chicken cordon bleu and tortellini with veggies. What a treat it was to be able to cook for one whole day! It was the best Saturday I've had in a long time.
Sunday we slept in til 8:00; I know that's late! We had our morning coffee and watched My Blue Heaven (which is still one of my favorites). Afterward we headed to Jon's office, which was in desperate need of organizing. Again we decided to just take it easy so we went back to the hotel and made sandwiches while we watched Love Actually. This is such a great movie. I love the story behind it. At the beginning Hugh Grant says (in so many words) if you take a step back and look around you will see that love is actually everywhere. It also put me in the mood for Christmas even though it is several months from now. I just love the holidays and really look forward to them this year. I don't think we left the hotel for the rest of the day, wow we are lazy bums! We ordered pizza from the Italian restaurant downstairs called "Little Italy" and ate our weight in chicken, mushroom and garlic pizza, while watching Bridget Jones Diary! Yes two chick flicks in one day! My husband is awesome, he watches girly movies with me! Thanks Jonny ;) While we were watching Bridget Jones, I glanced out the window only to see this!!!!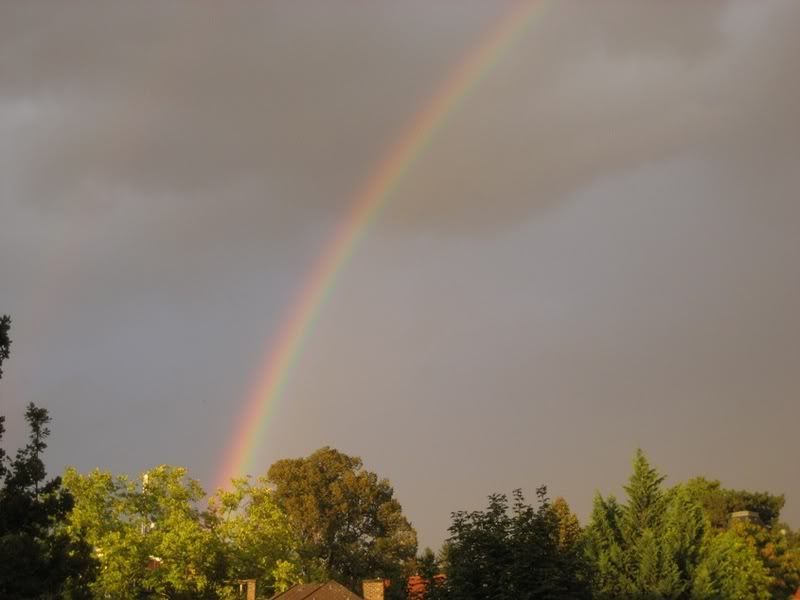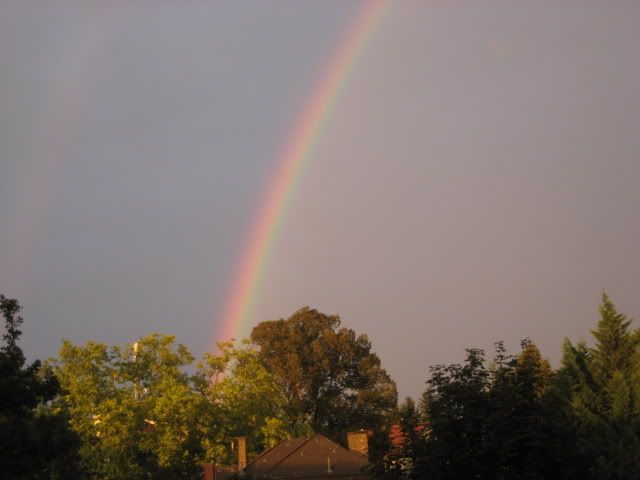 It was so awesome, our first rainbow in Germany. This rainbow actually came before the rain. It was kind of weird, because normally in Oklahoma a rainbow comes after the rain. But it was nice to see this beautiful creation from God. I was having kind of a bad day, and when I saw this it made my day better. It was like God was telling me, Steph you're going to be ok!!
We have 8 more days until we move into our place, and I can't be more excited! I've already started packing some of our things into suit cases so we won't be packing at the last minute. Our vehicle arrived this weekend so we will be picking it up some time this week. That will help a lot just having a form of transportation other than bicycles. I'm so excited! As Jon always says, "Things are lookin' up Jon and Steph!"