A couple to three years ago I really got into crocheting, I know I am such an old lady in a young woman's body! But I love to make scarfs. I used to make scarves all of the time at the salon if I had a break between clients or just during the weekends when there was nothing to do. It is so relaxing and therapeutic just like making jewelry. Jon and I went out and about a couple of weeks ago and found a yarn store, I literally lost it with excitement! We grabbed some yarn so I could start crocheting again and here is what I made! My first homemade scarf of the year! Isn't Jon such a wonderful model!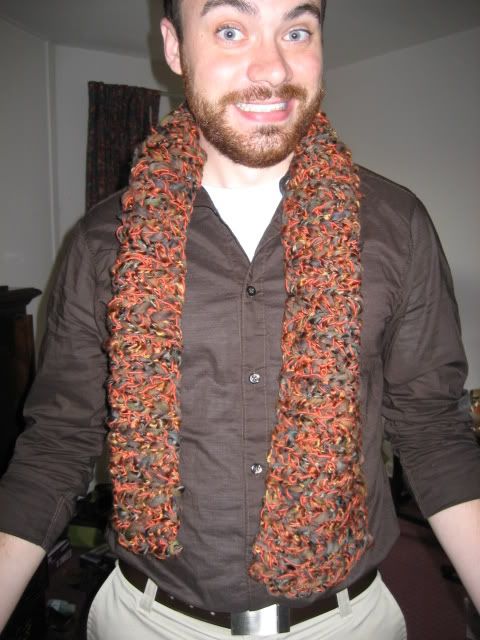 Now I can keep up this hobby and have some fun accessories to wear for the winter! I am such a busy body I love having all sorts of hobbies, well maybe it's because I might be a little A.D.D. or something! I like to have little things to do around the house to keep me occupied! I get bored very easily. Anyway just wanted to share a picture of my new scarf with you guys!
P.S. I do owe my best friend Lisha a scarf that I promised her like two years ago! I'm sorry I will finish your scarf this year and when you visit in December I will have it for you!! I LOVE YOU! OH NO! And I just remembered Brian my bestest buddy I totally forgot I have a scarf for him too that I was supposed to finish for him last year! SO SORRY! I will have it for you when you come visit too lol! Sorry, I'm a sucky finisher of scarves! Maybe I have too many hobbies and need to stick to one thing at a time so I can actually finish something in a timely fashion!
Have a great week ;)