This weekend there were several festivals in Wiesbaden. It was the City Festival and also the Autumn Festival.
Friday Night
Jon, myself and several people from Jon's office went downtown to the market square to listen to the music festival. As you can see by the pictures, market square was packed. Not only with adults but lots of children, which we thought was pretty cool.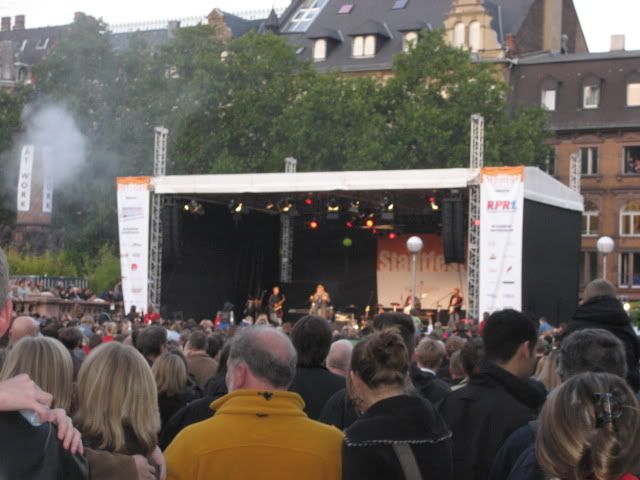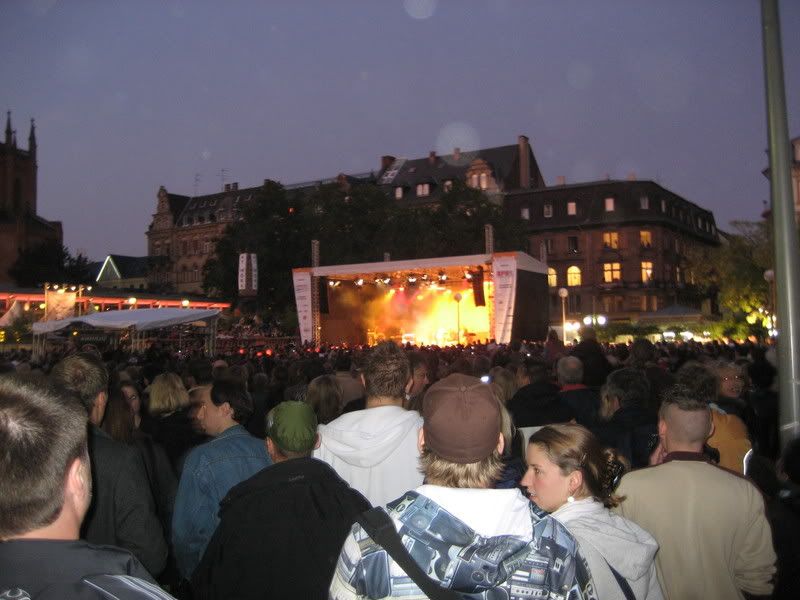 The band sang "We Are The Champions," by Queen, and this young boy climbed into a tree and was waving his arms back and forth while singing along. It was so cute.
After the music fest, we stopped by a bar to hang out.
Here is David, Tara, Myself, Jon, Shannon and Don
There were USA License plates on the ceiling.
Oklahoma Plates on the left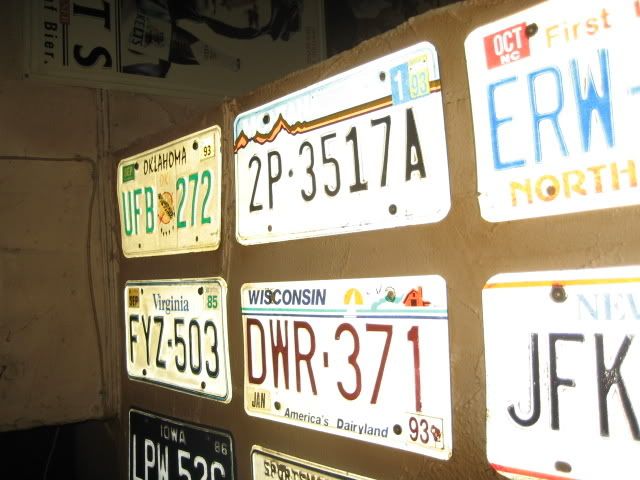 And again I found Oklahoma plates.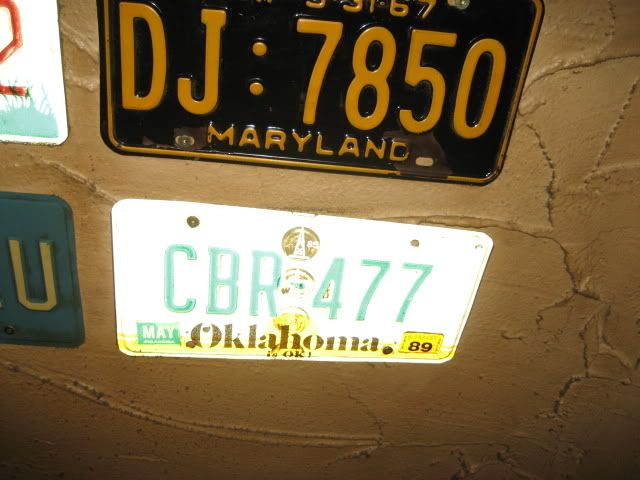 Saturday
Jon and I drove to Mainz, about thirty minutes away from Wiesbaden. We wanted to get a feel for the surrounding cities and really just get a feel for driving in Germany. We actually got lost for about twenty minutes in a residential area. That was exciting! lol But we stopped in the town of Mainz and ate at a small cafe. It was such a nice day so we ate outside and took a couple of pictures.
On the way to Mainz, we stopped along the Rhine River and I had to take a picture of this. This is an old palace built in the early 1700's. It is called Schloss Biebrich.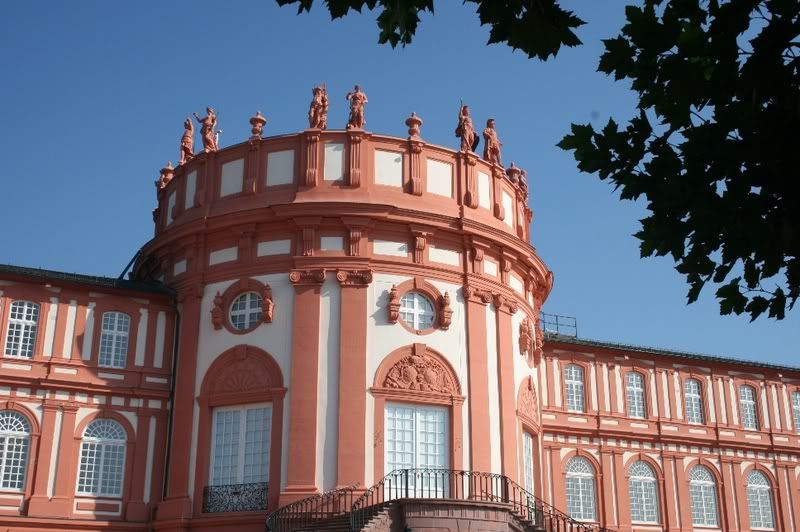 A church at the end of a main street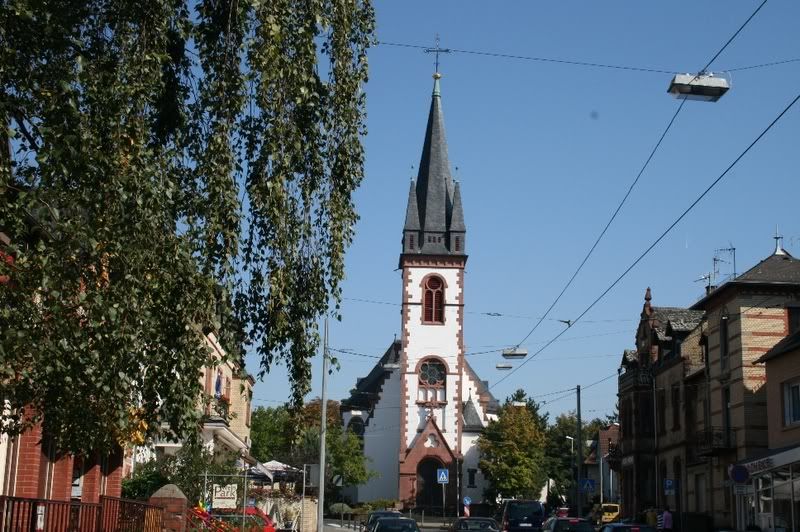 Me stopping to swing
Jon being silly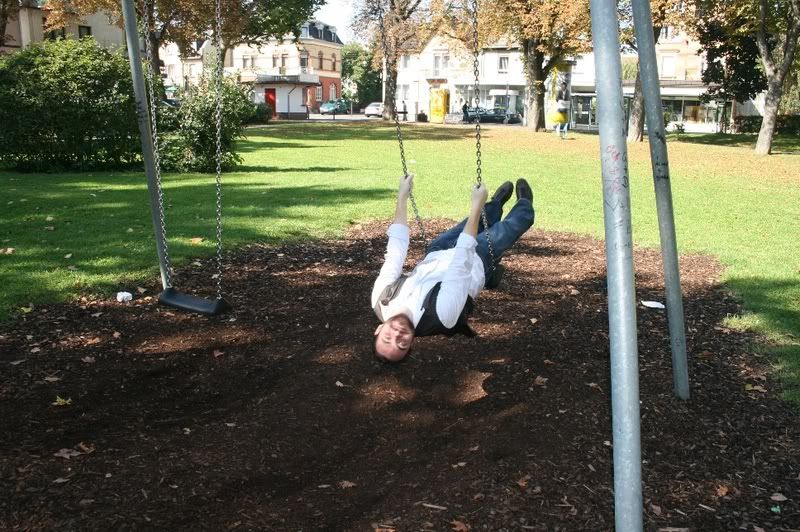 Sunday
Jon and I walked through the park where they were having the Autumn Festival. There were vendors selling seasonal fruits and vegetables like apples and pumpkins, and handmade products such as jam, sheep wool shoes, sweaters, jewelry, baskets, ceramics, etc. They were also selling bratwurst and wines. Here are some pictures from our walk.
The bales of hay had faces!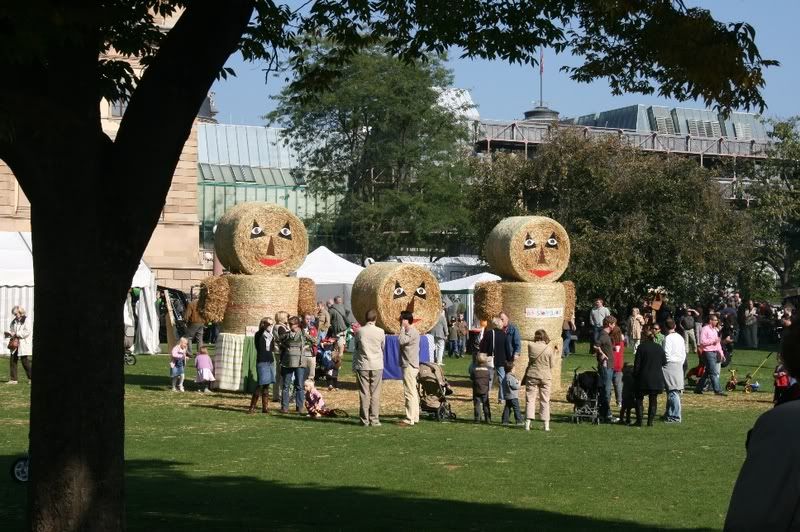 A huge pumpkin pile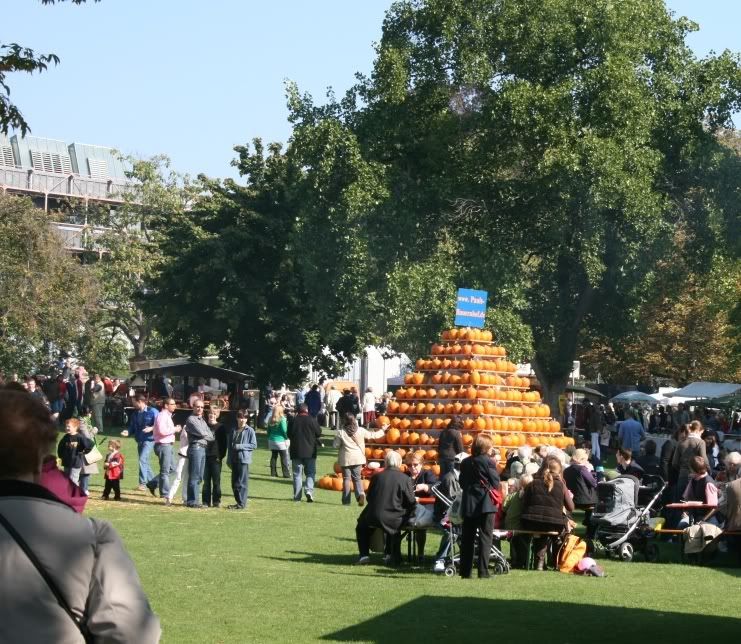 I think these were ceramic pigs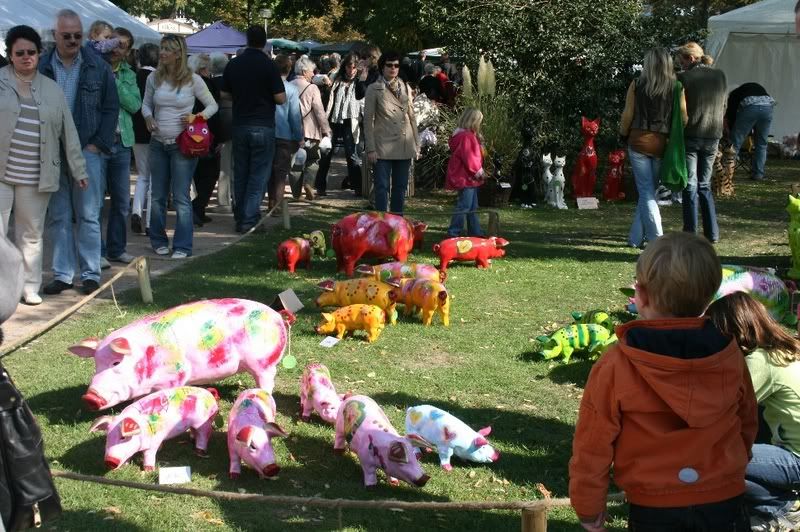 Ceramic Sheep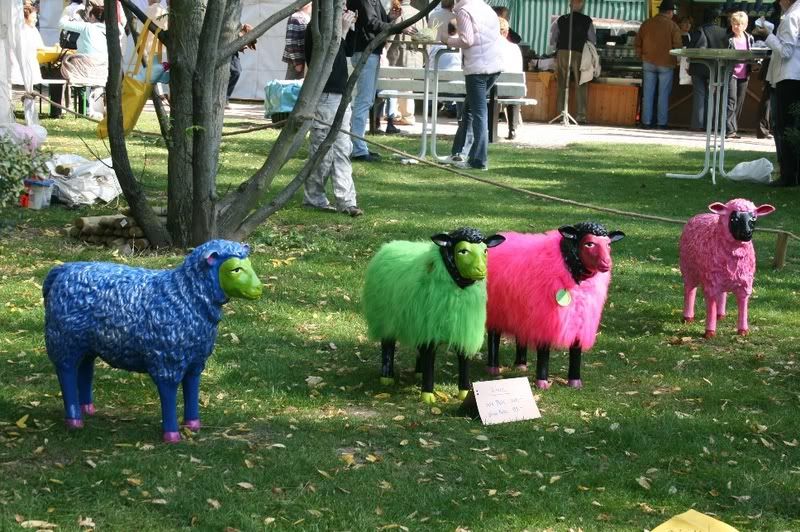 A real baby lamb.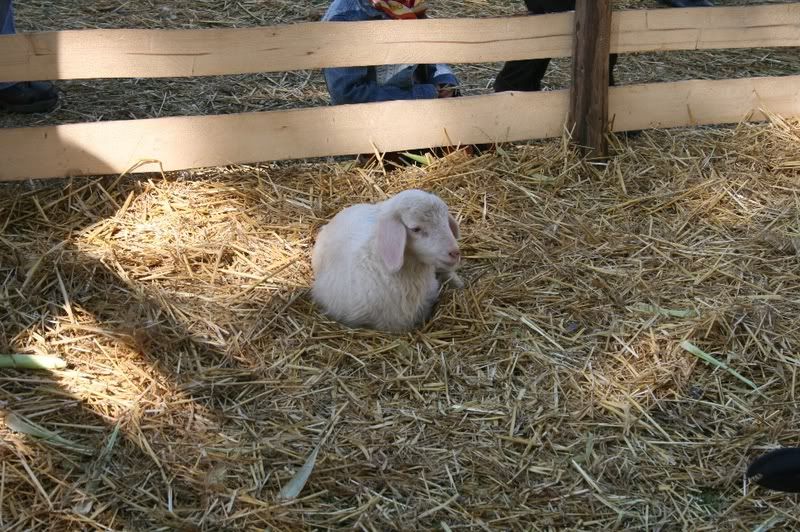 A live chorus singing "Oh Happy Day." It was great, everyone at the market was singing along and clapping their hands.
These children were making apple juice. The wooden object in the picture was an apple crusher. They were putting whole apples into the crusher/juicer and turned them into apple juice.
After walking through the festival, we grabbed our map of "Sights To See" in Wiesbaden and headed toward the first place on the map. The weather was perfect today so we couldn't miss out on this opportunity to enjoy it. We arrived at The Kockbrunnen (Hot Fountain.) This thermal spring was first mentioned in 1366, 15 different springs meet at this location. This spring is sodium-chloride water and is 66 degrees celcius.
Jon standing near the spring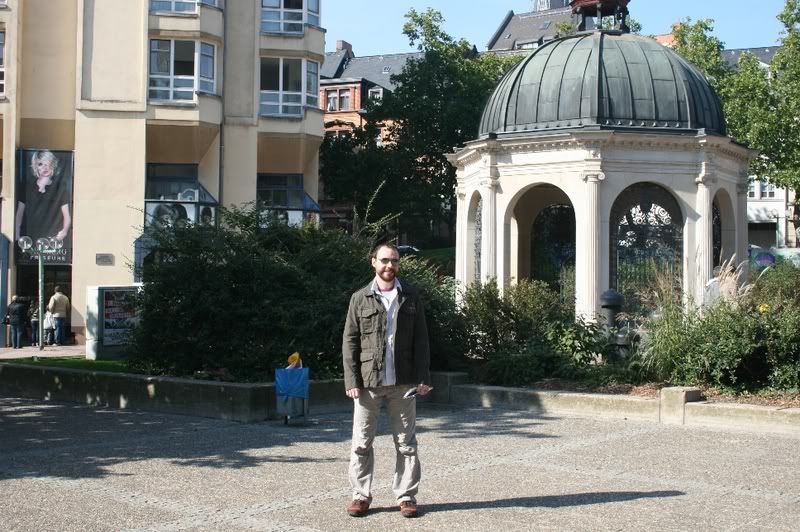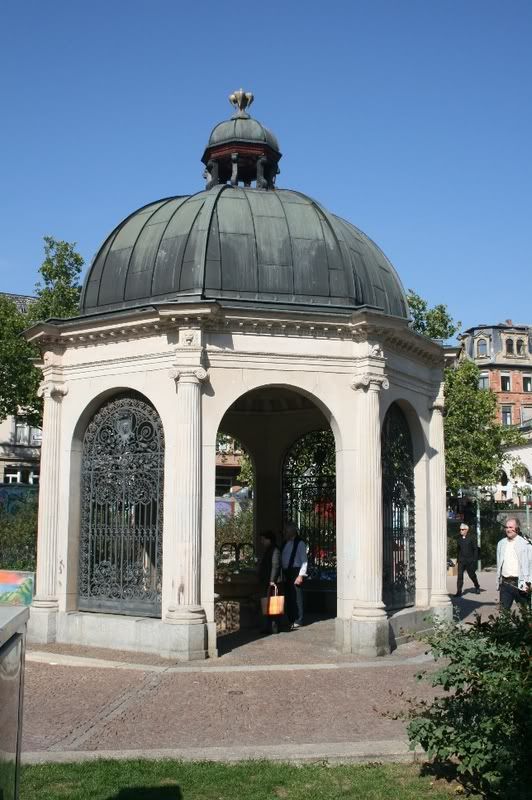 You could see the steam in the air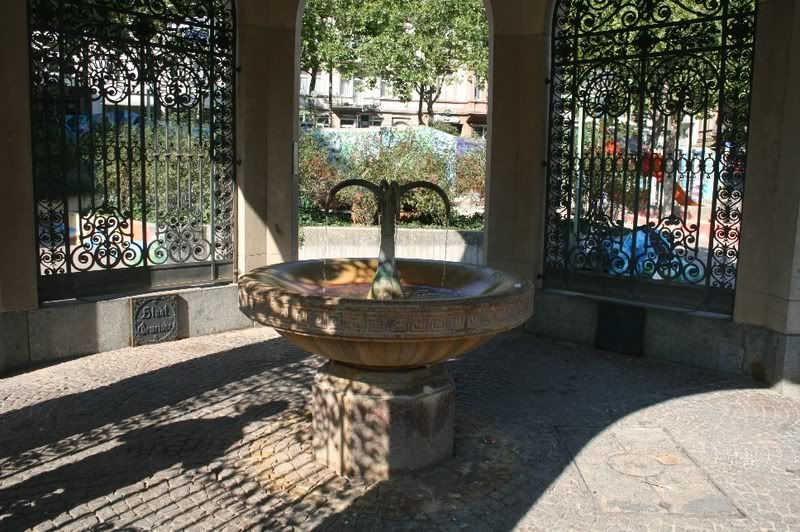 Me tasting the water. It was actually very very hot and tasted really salty.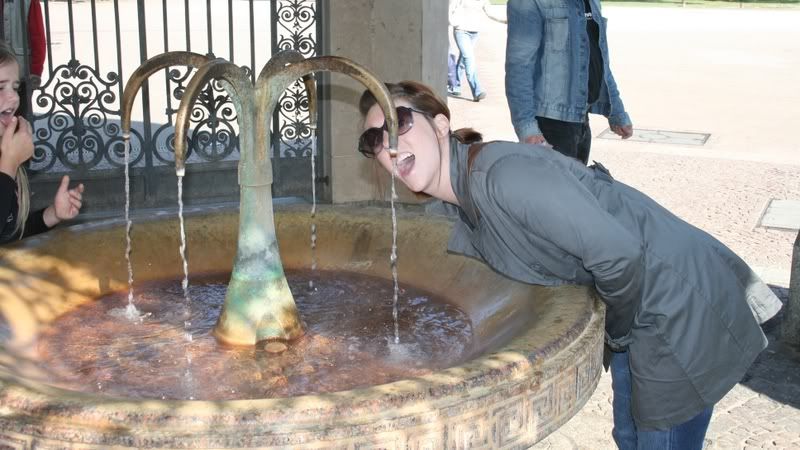 Another hot spring in the same area.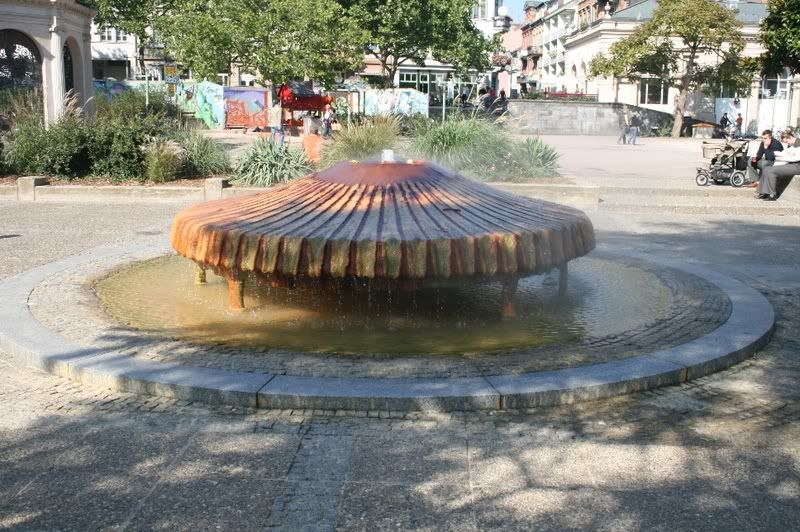 Two men riding silly bikes!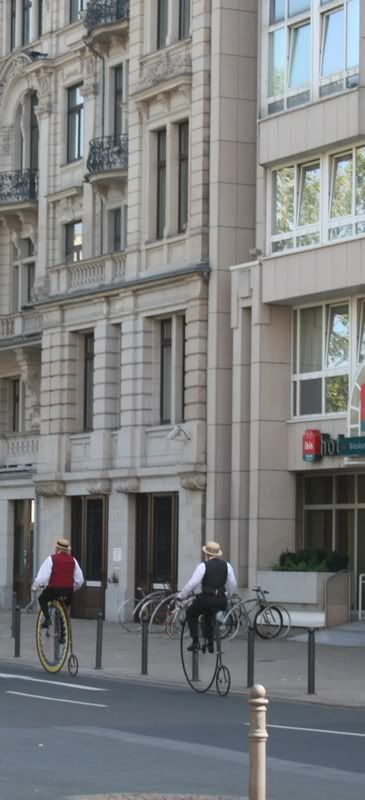 Next Jon and I walked to The Heidenmauer (Heathens' Wall.) This is Wiesbaden's oldest structure from Roman Times, dating back to AD 364-375. It was built to ward off attacks from German tribes.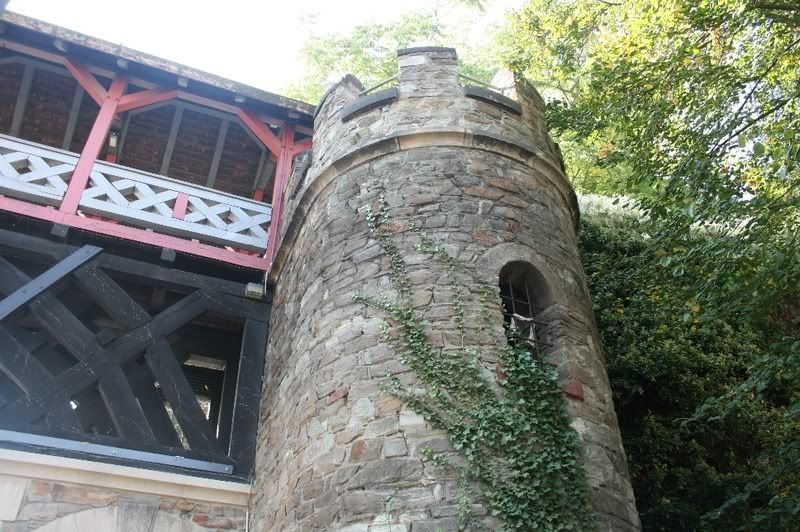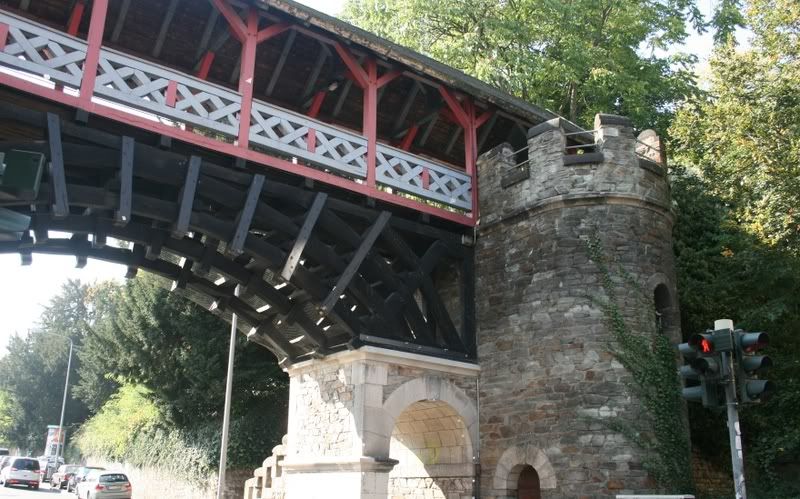 A view from the other side of the structure.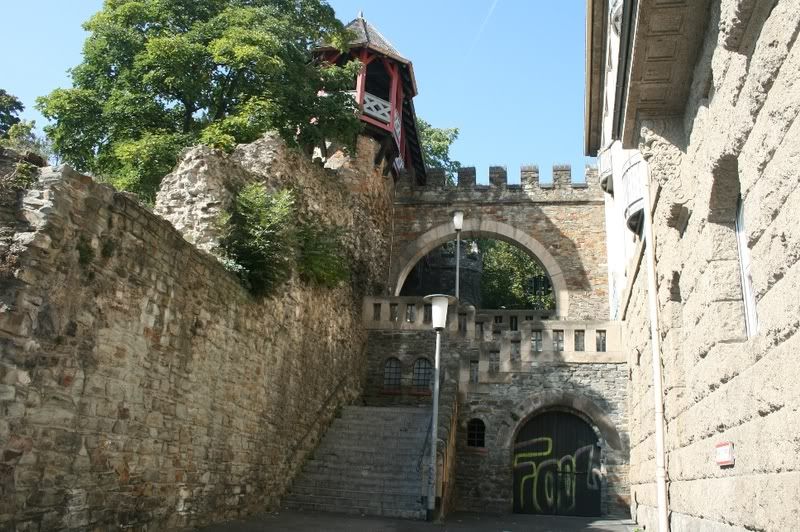 A view from the top of the hill
We continued our walk downtown, to The Altes Rathaus, "The Old Town Hall." It was built in 1610 and is the oldest building in Wiesbaden.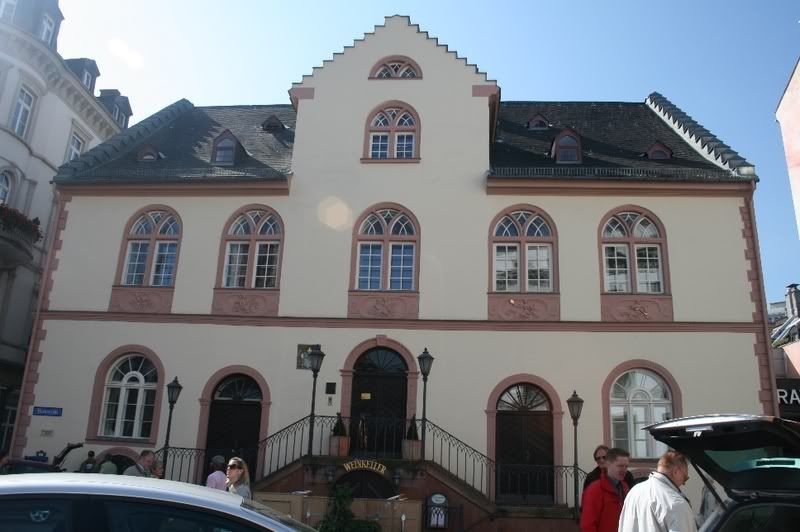 Continuing downtown we came across a human statue. I couldn't believe how still he stood. I could never stand that still ever (Brian knows that for sure.) It was incredible so I had to take a picture of course. Jon and I gave him a tip because we were so impressed.
It was a little overwhelming downtown, due to the music festival and a car show, so we thought it would be neat to walk by our apartment we will be moving into in three days! When we got there we noticed workers inside painting and cleaning the apartment! Yeah we were so excited to see this! We will have fresh paint, the apartment will be super tidy and ready for us to move into. As we were standing on the other side of the street very obviously staring at the apartment I said to Jon "I wonder if they have our name on the door buzzer yet" so I ran across the street and was so happy to see our name on the buzzer! It's hard to see from the picture but we are the second name from the bottom! I guess that made it feel more real, that it was actually ours!